Raiffeisen Bank Annual Report
Client:

Raiffeisen bank – Russian bank, member of first-rate international banking group, founded in Austria.

Task:

Develop annual report design for 2010. Annual report was to show Russian bank's succession in relation with Austrian group, their interaction.

It was necessary to reflect relations between Russian bank and Austrian group using art and culture of both countries – it was wish of the client.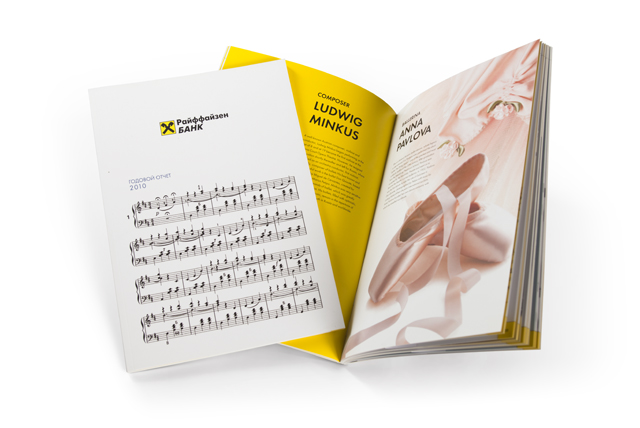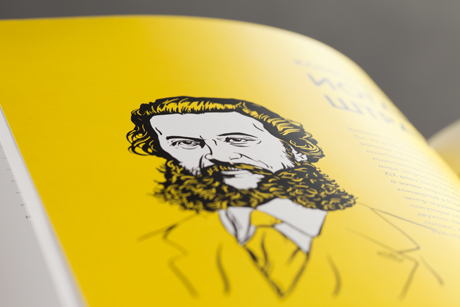 In Austria were born many greatest compositors and musicians – Mozart, Strauss, Schubert, List, Haydn, Bruckner, Minkus, and Gluck. It is interesting to note that Russian compositors and performers were inspired by music of the Austrian musicians. They continued, developed and popularized their musical art in Russia. Thereby we found idea for annual report – Austrian cultural traditions in Russian performance.
For realizing of this conception we used music – all the spectrum of compositor's creation as well as performance skills.
On half titles of the report we represented Austrian-Russian pairs of famous musicians: Leonid Sobinov played part of Christophe Gluck's opera "Orfeo ed Euridice", Jan Frid shot film "Die Fledermaus" (the bat) based on operetta of Johann Strauss, Anna Pavlova danced part of "Dulcinea" in ballet "Don Quijote" based on the music of Ludwig Minkus etc.
Through the parallels between Austrian and Russian art we showed Russian bank's succession in relation with Austrian group, but with own national unique style of working.