Annual Report Allianz Eurasia
Client:

Allianz – insurance company is a part of "Allianz Eurasia" concern. Allianz provided with advanced technologies in insurance, asset management and pension management.

Task:

Develop design of annual report.
This annual report is virtual voyage on the balloon. Everybody can "fly" over the countries, where "Allianz" operates, and find out financial results achieved in 2008.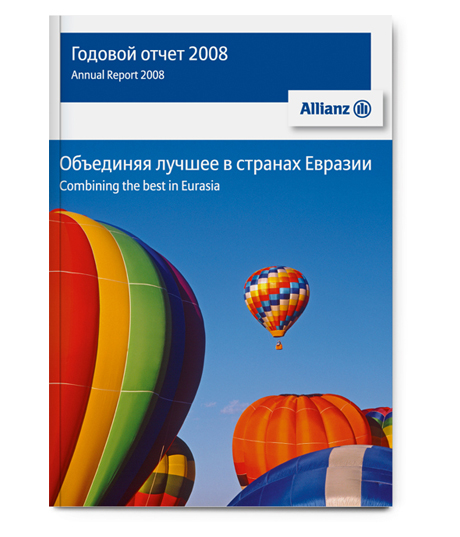 Idea, to use balloon as united element, was created when we try to find way to reflect scale and geography of "Allianz Eurasia" business. Balloon became not only link between separated parts of the company, but also helped to emphasize national component of different countries.
Idea of uniting presents in slogan of the annual report – "United all the best from the countries of Eurasia"
For instance, balloons were painted like national flags. Photographs of sights, nature and scenes of life were used for collages, represented one of the country on the way of our virtual voyage.
Graphs and diagrams are also in the same style. From one side, it simple and laconic, from the other side, due to colors and specific details, these graphs and diagrams associated with balloons.