Expobank Annual Report
Client:

LLC "Expobank" is a fast growing private bank operating in the Russian market of banking services since 1994.

Task:

To develop the concept of the annual report and uncover major events in the activities of the bank in 2013.
In May 2014 the international agency Fitch Ratings upgraded the Bank's rating on the national scale to the level of "BBB" on the international scale affirmed at "B" for "stable" outlook. In November 2014, the rating agency "Rus Rating" has raised the Bank credit ratings on the international scale to "BBB-", on a national scale – "AA-", "stable" outlook.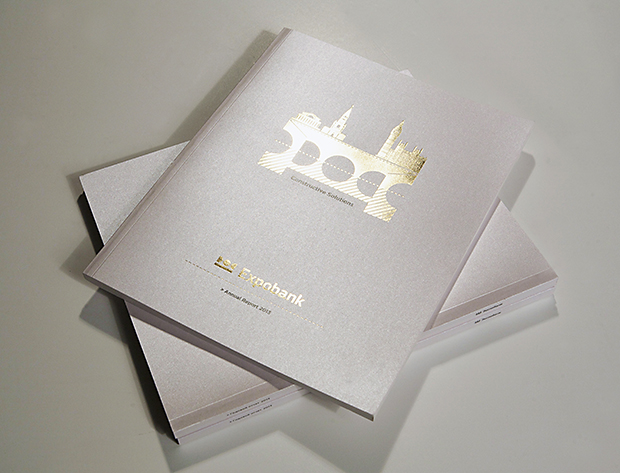 We gave the annual report name "Constructive solutions"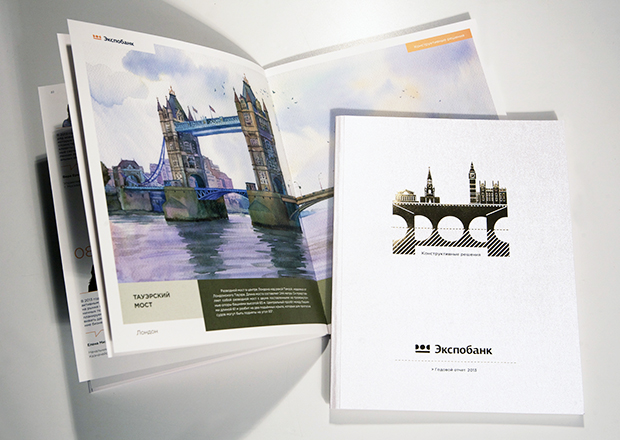 All the forces of the team "Expobank" in the reporting period were aimed at the development of bank's relations with foreign partners and to create a favorable background for the acquisition of Czech bank LBBW Bank CZ. Nowadays, when the foreign policy situation has a serious impact on business development with western partners, the bank's management decided to use the pages of the annual report, as a conductor of goals and objectives, which the bank carries out.
Well known that business has no borders. We gave the annual report called "constructive solutions" on purpose. Since ancient times people build a bridge that connects people and countries. The bridge - a symbol of cooperation and creation of new links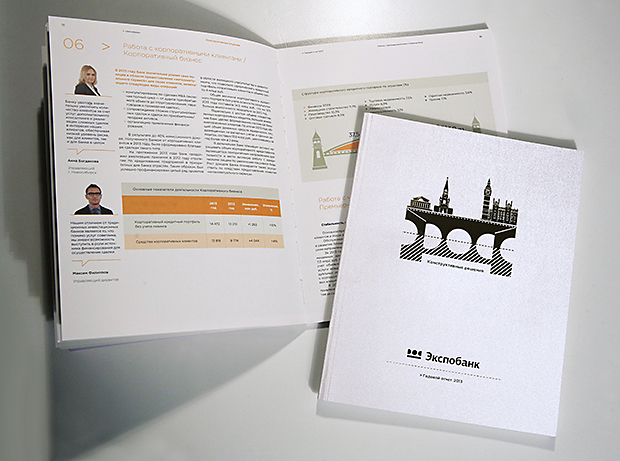 We also told about the design features of each engineering structure on the special titles of the report.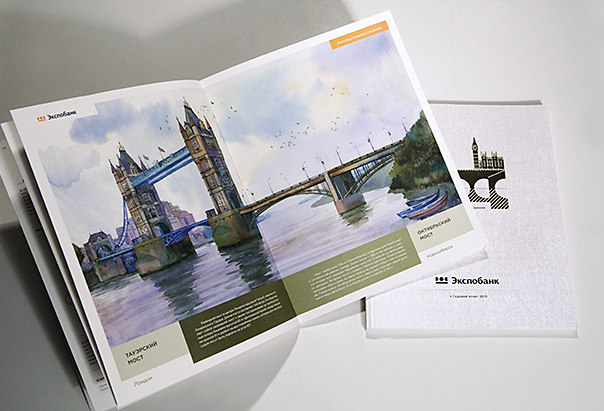 In order to make the idea clearer, we lit bridges and connected cities and countries, geographical locations that have no common border. Due to the arts appeared the opportunity to go through the "Tower Bridge" from British coast to the ground of Russian Novosibirsk through the "Oktyabrsky bridge." To start a walk on the "Annunciation bridge" in St. Petersburg, to pass on the "Charles Bridge" and find yourself in Prague.
We also told about the design features of each engineering structure on the special titles of the report. "Annual Report - is an opportunity to inform the target audience about what is the bank's team doing, which activities were conducted in order to achieve results. In such cases the best choice is to allow bank employees to express (in a short message) their ideas and to share their opinions, "- says the project coordinator Stanislav Sverdlov.
We added an unusual conception with bridges, styled infographics.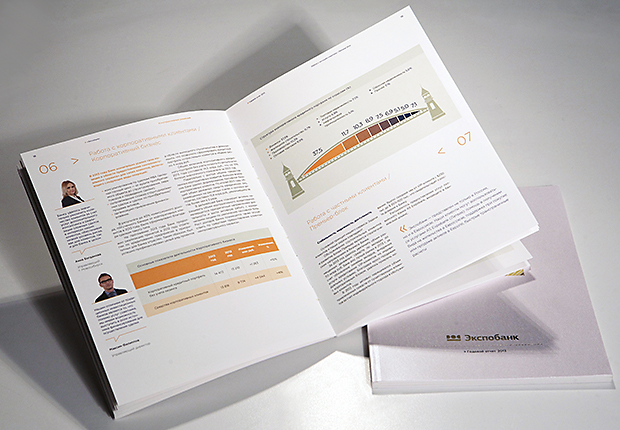 | | | | | |
| --- | --- | --- | --- | --- |
| More than 20 posts of "UkrSibbank" staff have been published on the pages of the report. The reader has the opportunity to meet real people and their views on the development of the bank. This report doesn't mean to be formal reflection of the financial situation. This is a position of the bank statement. | | Exactly real people, who work in the bank, create these showings and reach the desired results. Creating a report of "Expobank", we have added an unusual conception with bridges, styled infographics, where each graph or chart rendered in the form of a bridge. | | Report's printing made on the highest level. Cover printed on the handmade paper Treasure of Bavarian factory Gmund. Hot stamping puts the right emphasis on the idea of the report "Structural solutions." |